Workplace One Blog
Peter Street Neighbourhood Spotlight
When our Peter Street location opened in 2018, it ushered in a new era for Workplace One. Our spaces have always made us proud: their attention to detail, their unique charm, and the way they enable productivity for our members. But when Peter Street opened, it was like meeting a long-lost cousin who seemed intimately familiar yet brought with it a whole new perspective.
Bright, airy, and elegant, Peter Street is the kind of space that leaves people speechless when they see it for the first time. Daylight streams into the space from the 7th storey windows of 111 Peter Street in the heart of Toronto's Entertainment District. Moss walls and decorative greenery complement the colourful modern decor, while two large outdoor patios breathe a breath of fresh air into the workspace.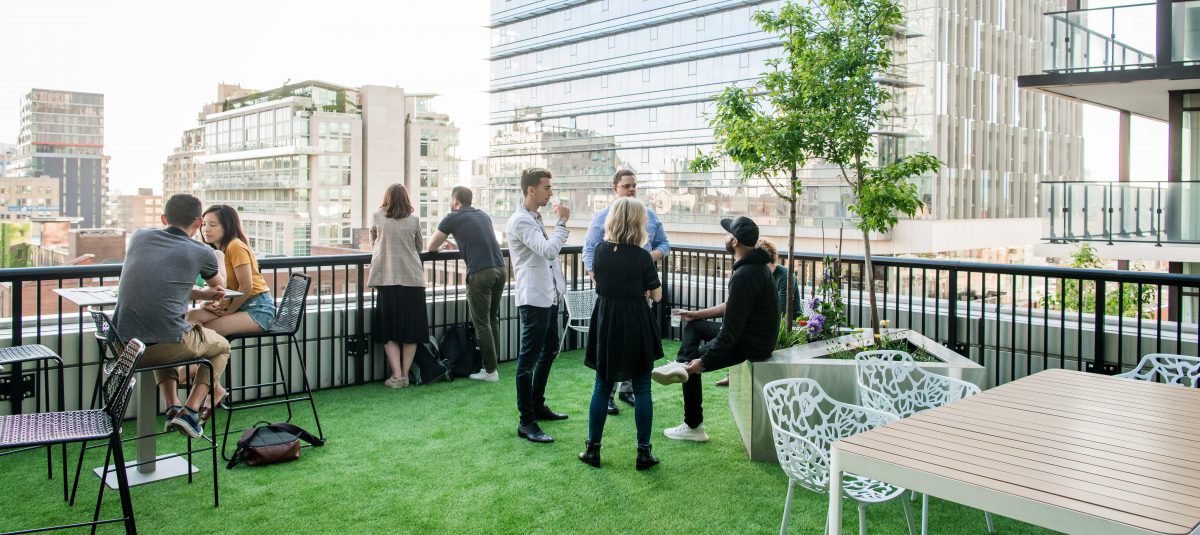 WORKSPACE
The workspace is divided into private offices, dedicated desks, and lounges. The glass-walled private offices are bright with the walls partially-frosted for privacy. Sit-stand desks are a feature of each office and are the perfect example of the flexibility that Workplace One strives for — each desk also has its own lockable filing cabinet.
Dedicated desks are an ideal set-up for solo entrepreneurs or small teams that want the same space each day. A step up from traditional coworking, these desks come with a lockable filing cabinet as well — and dedicated desk users have all of the same member perks as private office users.
MEETING ROOMS
Our Peter Street location is home to two meeting rooms that can be booked for as little as half an hour and are easily reserved online for members and non-members. The Wild Room seats up to 16 people while the Wonder Room is perfect for smaller groups of up to 6. Each meeting rooms is equipped with interactive TVs, conference call equipment, whiteboards, and privacy curtains.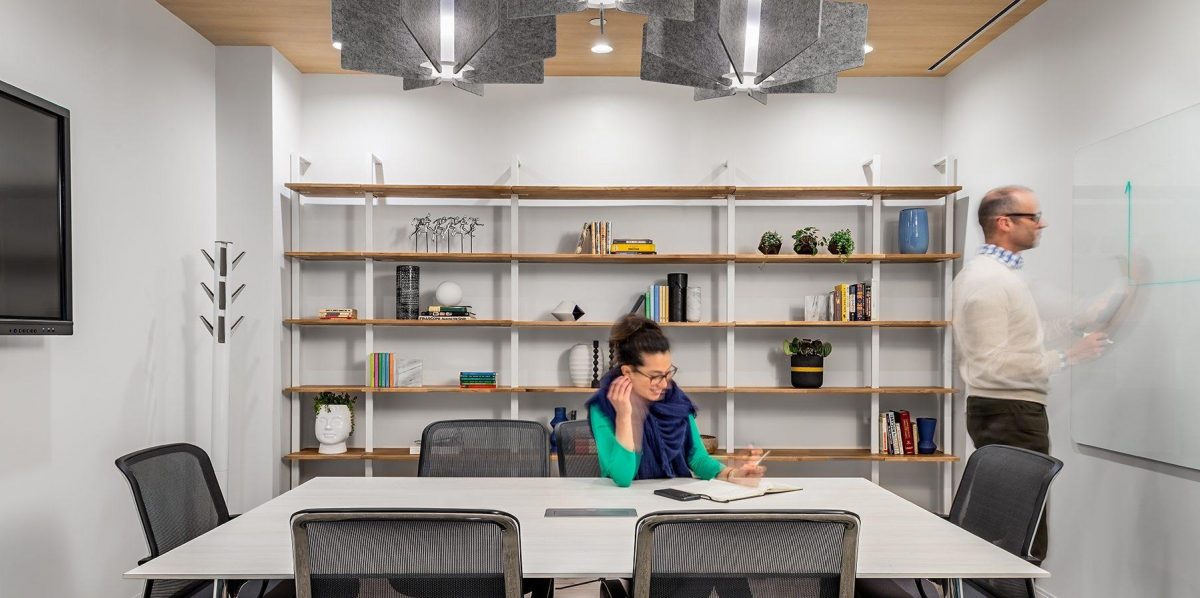 PATIOS
One highlight that is truly unique to this space are the two west-facing patios that overlook downtown and beyond. Perfect for events, or even a quick breath of fresh air, these outdoor respites are virtually unheard of in shared workspaces and we are proud to be able to offer them to our members and guests.
The features of the workspace go beyond the walls of the building. Peter Street is ideally located in Toronto's Entertainment District meaning there is no shortage of shops, restaurants, and bars to visit whether for business or pleasure. Here are a few of our favourites.
Retail
Spacing Store (401 Richmond W)
Spacing Magazine's shop that sells local interest books and gifts
Swipe Design books + objects (401 Richmond W)
Bookstore specializing in graphic design, branding, and advertising
Peter Pantry (373 Queen W)
Offshoot division of Peter Pan Bistro selling soups, pickles, jams, and spices.
Restaurants
Best Lunch Under $20
Kibo Sushi (36 Charlotte)
Walk-in lunch special for $10. Super fresh and delicious every time.
Salus (101 Peter)
Lauren's favourite. Wraps, salads and smoothie bowls right next door. Service is super quick.
RaviSoups (322 Adelaide)
The wrap combo is enough for a full meal + leftovers for less than $15.
Best Places for After-Work Dinner
The Haam Sushi + Taco (342 Adelaide W)
Fusion restaurant with small plates and pressed sushi.
Pai (18 Duncan)
Northern Thai restaurant. Try the Chef Nuit Pad Thai and the mango sticky rice for dessert!
Peter Pan Bistro (373 Queen W)
Elevated classic bar fare like grilled cheese with gruyere, and beignets for dessert. Check out the wine shop!
Best Places for After-Work Drinks
Melrose on Adelaide (270 Adelaide W)
Happy Hour from 4-7 daily. Wide selection of cocktails and tapas with a patio.
Barhop Brew Co (137 Peter)
Three story microbrewery with a patio on the top floor.
Horseshoe Tavern (370 Queen St W)
This legendary live music venue is also a relaxed spot to meet after work