Workplace One Blog
In the Spotlight: Jones Immigration Law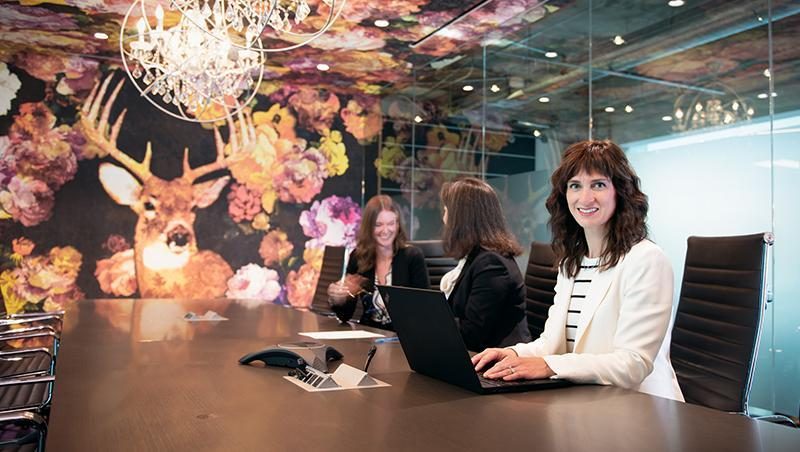 The businesses that call our work centres home vary greatly. From sole entrepreneurs to satellite offices for multi-national corporations, we support business on all levels with our signature hospitality and well-designed spaces. Our member spotlights give you an idea of who works behind our doors. Say hello to Jones Immigration Law.
WP1: How long have you been a Workplace One member? What location do you call home?
JIL: Jones Immigration Law has been with Workplace One since June 2014. We call the King West location home, and were actually one of the first companies on the floor when the space opened!
What made you choose Workplace One?
We were looking for a space that was inviting to our clients and provided us with a sense of community. We also needed a space that provided the flexibility we needed to grow a new business and the ability to adapt our space accordingly.
What are the 3 most important things for you in a flexible office space?
It is very important that our office space is clean and professional, reassuring our clients that we care about the outcome of their file, and will address their issues competently. We also appreciate Workplace One's inviting and positive atmosphere where our clients feel comfortable. Finally, the sense of community at Workplace One is key, providing us the ability to network with different businesses and industries on a daily basis just by walking the halls, or eating lunch in the common space.
What amenities do you take advantage of most? Complimentary coffee? Private phone booths? Other locations? Meeting rooms? Something else?
We certainly take advantage of the complimentary coffee and teas Workplace One offers! Private phone booths were also recently installed at our location, and we use these quite often given the confidential nature of our work. We do have a private office, but as there are three of us the phone booths provide us with a quiet and private space to take client calls.
How many people does your business employ?
We are currently a team of three: Christy Jones is the founder of Jones Immigration Law, and is an Immigration Lawyer certified by the Law Society of Ontario as a Specialist in Citizenship and Immigration Law. Andrea Bishop is the Regulated Canadian Immigration Consultant (registered with Immigration Consultants of Canada Regulatory Council) and Linda Kingsmill is our Immigration Law Clerk.
How do you describe your business to a stranger?

We offer tailored immigration services to both businesses and individuals worldwide. On a corporate level, we work closely with employers, advising on how to move employees to Canada, remain compliant with immigration legislation, how to meld immigration goals with other corporate objectives, and how to transition their employees from temporary to permanent status in Canada. We also work one-on-one with individuals who want to study or work in Canada, become permanent residents in Canada, or sponsor their family members. We essentially assess the best immigration options for our clients, provide legal representation to them throughout the process, and work with them to successfully reach their immigration goals.
How has your business benefited by being part of the Workplace One community?
Attending the networking and community events at both our own location and other centres has greatly benefited our business. Through these events, members requiring immigration assistance have been able to identify our services and connect with us. The events have also allowed us to access the services of other businesses we may not have been aware of. The Workplace One community really encourages members to interact, and because of this we have had the pleasure of collaborating with numerous companies at our centre.
What do you enjoy doing when you aren't at work?
We like to get outside to enjoy the sunshine and explore the city. We like to travel, experience new cultures, and we have an avid snowboarder and gardener on our team!