WorkplaceOne Blog
Neighbourhood Spotlight • King West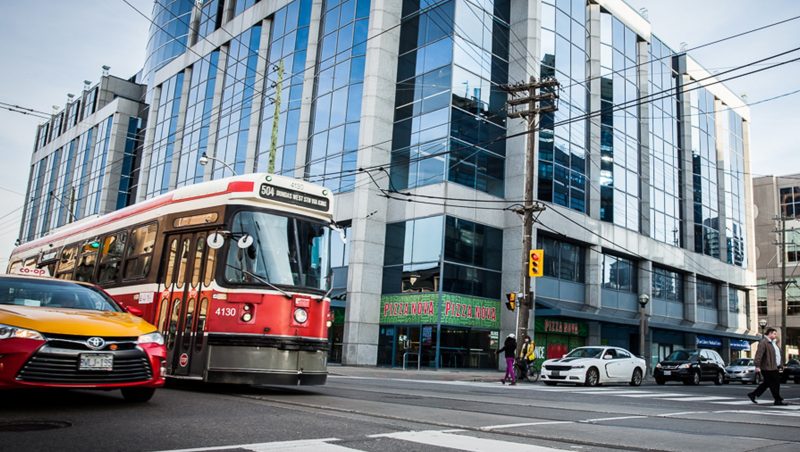 A new normal. This is a phrase our company, the media, our government and pretty well everyone we know has been talking about lately. We're learning to adapt, be flexible, think of creative solutions but most importantly, we're learning that the way we live and work has changed.
The idea of the traditional workplace has been turned on its head and a wide array of flexible office solutions are being explored. One key element to the equation is proximity. For business owners and employees this means proximity to home, to other coworkers, to clients, to resources. Fortunately for Workplace One members, there are locations across the city, easily accessible by transit, and in the top neighbourhoods.
One of the best parts of being a Toronto-based business is that the city truly has something for everyone. Its neighbourhoods all provide their own unique experience and charm. And while we take pride in the high level of professional standards that are so central to who we are, we can't help but be proud and honoured to call Toronto's top neighbourhoods home and feel grateful for how they have influenced each of our spaces in their own charismatic way.


While charm might be something that makes us think instantly of our original Queen West and Corktown locations, our modern world demands for flexibility have us batting our lashes at our 901 King West neighbourhood as a hot and versatile option for these reasons:

Steps to Liberty Village: Hello amazing retail!
There's no doubt that convenience is key. The less we have to travel across the city to get the things that we need for our day-to-day lives, whether it be groceries or home and office supplies, the better. With Liberty Village and Queen Street West just steps away this means your essentials (and fashionable non-essentials!) are easy to pick up. Minimizing the number of places we go is a big part of what we're currently navigating so having these amazing options close by takes some of the extra trips out of the equation.
Walk, Ride, Transit or Drive: any type of commuter's paradise
The King Streetcar stops right at our corner — walking out your office doors to such an efficient route is a great perk. The neighbourhood's close proximity to the Gardiner also makes this area a dream to access or exit the city. If you commute by car, this neighbourhood is on our hot list because of the ample parking solutions: a rarity in downtown Toronto. We also love how many amazing things are within walking distance, including some great residential spots in the city. 901 King West members, Andrea Bishop and Christy Jones from Jones Immigration Law love the neighbourhood for so many reasons, but emphasize that having an office that multiple team members can walk to within 15 minutes is an amazing benefit.

Old friends, but new kids on the block
There are many Toronto food legends around this neighbourhood. A short stroll up Strachan Avenue will bring you to Terroni and Nadège Patisserie: a couple of our personal favourites. However, the best part about this neighbourhood is the constant surge of new and exciting options. Our friends at Burger Drops opened their new Drop Shop on Atlantic Avenue and have us drooling. We were fortunate to connect with Greg Bourolias and his roaming team of burger geniuses when they fed our members at the company wide launch of our Peter Street location when they were a pop up and catering based company. We're even more excited now though that we get to be in the neighbourhood with them as they make an exciting transition from a pop up to a traditional space. Like many companies in recent times, being mobile and not having a home base served a time and purpose but as Bourolias notes, "the pandemic hit us hard — our summer of pop-ups and caterings were all canceled and I thought long and hard about our next move". The team has now settled into their Toronto hub that's right in our hood and that they also call home. Bourolias notes that with having the space it's having the simple things taken care of that make all the difference and that he can finally "focus all of his energy on the food". We agree and couldn't be happier for our friends and now neighbours!

Parks, parks, and more parks. AND we're still in the city

Speaking of happiness, we're all aware that spending time in nature and getting fresh air does wonders for a mental and physical health, but this rings true now more than ever. Our 901 King West neighbourhood provides us with so many green options that give us the best of both worlds. The access and convenience to all the great qualities of a city, with the luxury of green spaces that an urban setting doesn't always afford. The biggest hitter on the list is Trinity-Bellwoods and it's just a short stroll away. The smaller (but mighty!) neighbourhood gems of Stanley Park and Massey Harris Park have stolen our picnic lunch hearts.
Our King West location is a colourful and airy space, perfect for vibrant businesses of any size. Please contact our team if you are interested in taking a tour.