Workplace One Blog
Coworking 2.0: Top 5 Advantages of the New Shared Workspace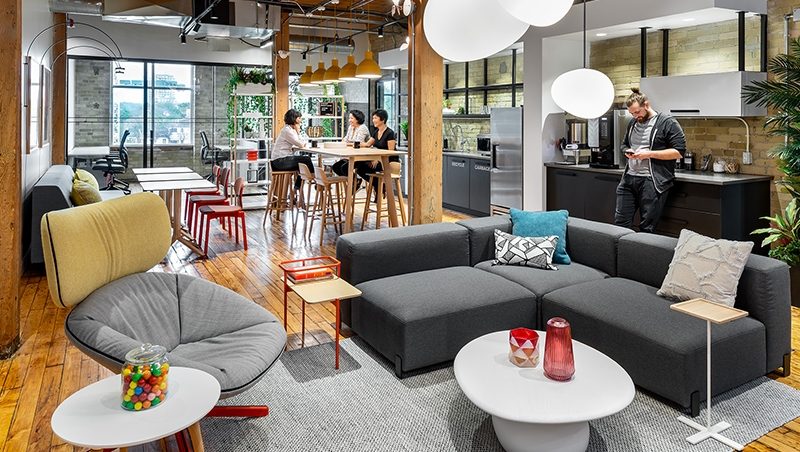 During the pandemic, shared workspace became the office solution we didn't know we needed. Now that working remotely or from home has become a viable option for many employees, the landscape of what the office looks like has completely changed. And coworking offices like Workplace One are the answer.
Businesses no longer need large amounts of square footage, they need large amounts of flexibility. The productivity of employees relies on so many factors and the main one is allowing for the business to adapt to what works best for everyone.

When it comes to saving time (and what is time? Oh right — money) shared workspaces like Workplace One to take care of a business's non-core tasks, like administrative and technical details, meaning business owners can focus on what matters most: getting down to work.

Here are more reasons how coworking spaces are the solution for businesses of any size.


COST

Let's be honest: running an office is expensive. Operationally, there is a never-ending list of little things that add up quick. From infrastructure like WiFi and servers to the nitty-gritty of cleaning, kitchen supplies (helloooo coffee!), washroom supplies, and now, health & safety protocols, it is easy to see how the costs, not to mention management time, can make any business owner wonder if it is all worth it.
And that list only represents the day-to-day if you are already established. The set-up costs of an office buildout from scratch can be, in a word, astronomical, particularly when you want to come to work in a place that isn't made of cardboard boxes.

Shared workspaces take care of any buildout costs and offer turnkey solutions so that business can be up and running virtually on the spot.


FLEXIBILITY

Every business is run slightly differently. Some have sales people who are on the road most of the time, but need access to a desk once in a while. Others will have employees who need frequent collaboration opportunities, while some businesses rely on employees who can do their work from anywhere as long as there is an internet connection. Some days businesses will have all of their employees coming in, other days it may only be a few. That can lead to operational headaches.
But not with shared workspace.

Whichever way your business leans, Workplace One can find a solution. For example, it's possible that your business doesn't need to use a large meeting room every single day — but perhaps you need one a couple times a month. It doesn't make sense to have a large amount of square footage going empty the majority of the time like you may in a traditional office setup. As a Workplace One member, you have access to the meeting rooms at all of our locations — and they can be booked easily online.

The same can go for desks. Only need a few desks all the time and access to more on an as-needed basis? No problem. Consult with us to find out what works best.



LOCATION

Chances are good your team doesn't all live in the same neighbourhood. This can lead to commuting challenges for certain employees. With locations across downtown Toronto and in Kitchener, Workplace One is sure to have a location that fits best.
It can even work that part of your team is based out of one work centre while others access a more suitable location that works best for them. Again, it gets back to flexibility.



HQ SUITES

We have recently added a new model to our offerings that brings an additional kind of freedom for businesses. The HQ Suite model gives a business sole access to a full office set-up: standalone and completely private. Instead of a Community Manager onsite daily, the HQ Suite member will have contact with our Concierge Manager who can help with any issues that may come up. While HQ Suites are independent, members still have access to all of the Workplace One locations, including meeting rooms.
Additionally, HQ Suites are fully-furnished and fully-serviced, meaning you don't have to worry about cleaning or infrastructure like you would with a traditional office rental — your only job is to do your job. HQ Suites are generally suitable for teams of 15 or more.

Learn more about HQ Suites, including our newest location in Toronto at Adelaide and Portland, here.





COMMUNITY

When coworking originally became popular, it came along with an image of feisty, young entrepreneurs all sitting around one communal table, collaborating constantly, and fighting over the last outlet to plug in their laptop. That idea seems nostalgic now — not only thanks to the pandemic, but because office space has changed. Truthfully, it's actually business that has changed.
The way businesses operate today is completely different than it was 20, or even 10 years ago. Work can be done remotely far easier and technology has allowed for types of communication that, frankly, would've seemed impossible a decade ago. Keep in mind, effective video conferencing is relatively new technology, particularly on smartphones.

Coworking is no longer solely the home of the solo entrepreneur. It is now an effective office solution for business in general.

As we forge ahead with new business outlooks provided by the covid-19 pandemic, one thing that hasn't changed is human nature's desire for community. No one can live in complete isolation. At a place like Workplace One, there is community built in. Our members share not only the kitchen, but common values. We work hard, but understand the value of taking a break. We value other peoples' opinions and welcome diverse businesses from all sectors — trust us, everyone from hedge fund managers to influencers call our offices home.

Regardless of the type of business you operate, at Workplace One it is our business to make everyone's work day run smoothly. With this kind of business support behind you, you'll quickly understand why coworking is the future.